Bath & Body Works Foaming Body Wash in Japanese Cherry Blossom, Victoria's Secret Dream Angels Heavenly Angel Mist, Beauty Rush by Victoria's Secret lipglosses in Red Delcious and Strawberry Fizz, Bath and Body Works Body Splash in Velvet Tuberose
Bath & Body Works and Victoria's Secret is having a Semi-Annual Sale and I was excited about them. I love the smell of Dream Angels Heavenly Angel Mist since I'm now addicted to body splashes and perfumes. I wanted the perfum version of it but right now I'm saving up for MAC's Spring Colour Forecast in which I'm going on a no-buy of any makeup. Velvet Tuberose smells really good!! My mom first bought the old body splash bottle of this scent and she loved it! My favorite scent of all time is Cherry Blossom since not only it's pink, I just love the smell of it. I just want to go to Japan one day and see a Cherry Blossom Tree since I've heard that they are the prettiest flowers ever! I have yet tried the Foaming Body Wash so I will try it out when I run out of my Caress Glowing Touch body wash. I adore Red Delicious lipgloss! It reminds me of one of Maybelline's Shine Sensational lipglosses (I think Watermelon Punch but I'm not sure). Strawberry Fizz is my absolute favorite of mine! If I wasn't on a no-buy, I would get at least 10 of them because I love it so much lol if any of you guys own any Lipgelees from MAC, the Beauty Rush lipglosses are worth a try. Here are the swatches of both Red Delicious and Strawberry Fizz: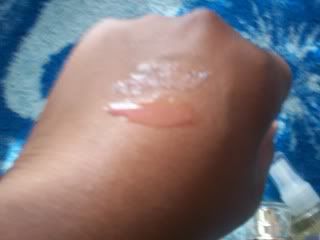 Top: Strawberry Fizz Bottom: Red Delicious
Hope you guys enjoyed this post and will be thinking of some more stuff to blog about.