Product Rave is a series of post of where I rave about products that I'm currently loving and getting the most use of. This will include many brands from drugstore to high end.
Today I'm raving about the lipgloss that I recently purchased and cannot get enough of since it's the perfect nude lipgloss that any skintone can wear. It looks amazing with any lipstick of your choice but I prefer to wear it with nudes and coral lip colors. Even today I wore it with MAC Fresh Salmon lipstick and put Chadelier in the middle of my lips and it was gorgeous! It gave my lips some definition and I'm going to purchase this again sometime! This now is my new HG product ever and will forever be my HG product! I would recommend this to you all and do get it at Ulta or off of cherryculture.com now!! I'm telling you! This color is amazing and you would thank me for it.
Another pic of the lipgloss and a swatch: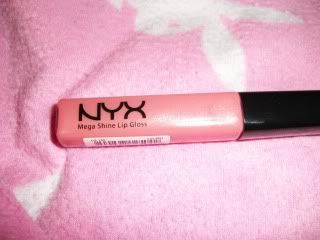 Sorry that the swatch is far. I try to get a close up look but the pics were turning out too blurry.
Recs lipsticks to try it with Perfect:
MAC Jazzed l/s
MAC Marquise'D l/s
MAC Plink! l/s
MAC Fresh Salmon l/s
MAC Ravishing l/s
MAC Crosswires l/s
NYX Round Lipstick in Indian Pink
NYX Round Lipstick in Watermelon
NYX Round Lipstick in Miracle
MUFE Rouge Artist Intense Liptick in #38 and #39
NARS Lipstick in Love Devotion
So, what do you all think of this post? Should I do more of these or not?